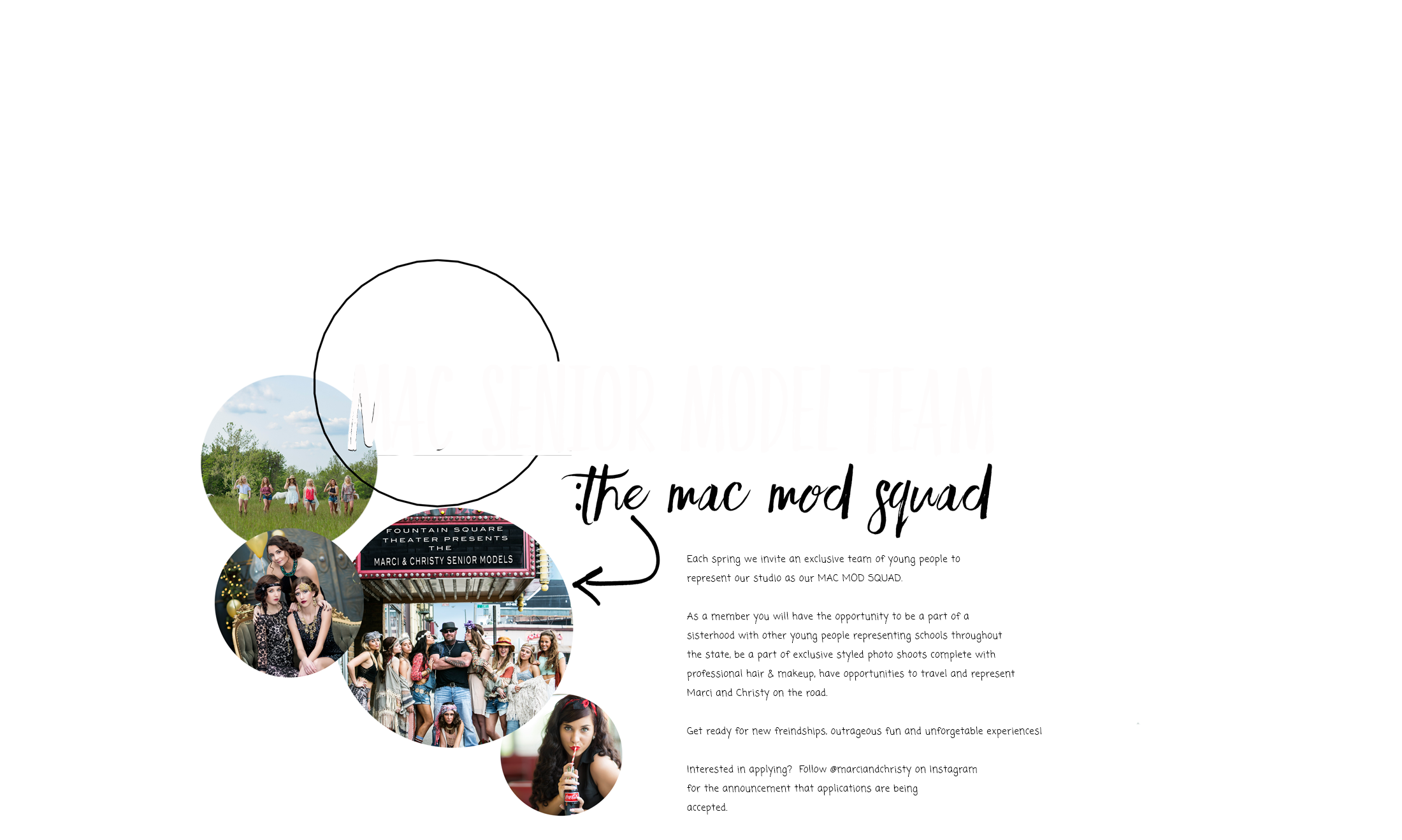 Hello and thank you for being here!
Each year at our studio we put out an invitation for the youth GIRLS AND GUYS of the greater Indianapolis area to apply to represent our studio as part of our MAC MODEL TEAM.
Marci and Christy are always in search of diversity in race, ethnicity, looks, shapes and sizes to represent our studio. We have always embraced all cultures and personalities to rep our brand.
MAC Senior Model Team are brand influencers for Marci and Christy Photography but above all else it is a sisterhood and brotherhood… a place to connect and bond with others traveling the journey of high school and graduation. We are commited to helping provide a place where we can cultivate friendships, confidence and self esteem.
We promise three things: you'll have outrageous fun, you'll always belong and you'll have the most beautful pictures of yourself you have ever seen!
There is always someone to talk to, share with, bond with.  Some of our past (and current) team members have found college roommates and lifelong friends through the MAC model program.  How awesome is that?  We have a running Groupme chat to keep everyone in contact and informed of group activities, trips and of course photoshoots!
---
---

EXCLUSIVE  MAC SENIOR MODEL SQUAD MEMBER BENEFITS
STYLIZED PHOTO SHOOTS
MAC model team members have opportunities to participate in editorial magazine photo shoots and creative projects EXCLUSIVE to the MAC Senior Model Team.
FEATURED & PUBLISHED
MAC clients and Model Team members have been featured regularly in National Publications. Here is your chance to do the same! Let's create something beautiful together.
COMMUNITY INVOLVEMENT and CHARACHTER BUILDING
Come together and choose projects that give the team an opportunity to take part in giving back to the community. Gain confidence, build self esteem and be the example, grow compassion.
Being a part of something bigger than oneself gives meaning and purpose!  People who have meaning and purpose in their lives are happier, feel more in control and get more out of what they do. A simple way to describe having 'meaning' in your life is that it's about being part of something that we really believe in that is bigger than ourselves.
COLLEGE APPLICATION BENEFITS
Marci and Christy will give a character reference letter for scholarships as well as experience to add to college applications and resumes. (community service, leadership roles, team player)
EXCLUSIVE EVENTS &  DESTINATIONS
Group events exclusive to the MAC Model Team such as stylized shoots, pizza night, bonfires, game nights, etc.  Plenty of chances to bond with other team mates! Priority invitation to join destination shoots in places like Chicago, Nashville, NYC
SENIOR PORTRAITS, OF COURSE
Ensure that you grab a priority date before they are gone!
EXCLUSIVE MAC PRODUCTS
Customized Smart Phone App
MAC Model Team T-Shirts
Priority Booking and Session Fees
VIP Pricing on Make-Up artist fees
COMPLIMENTARY FAMILY SESSION
($199 session fee waived- does not include images)

REQUIREMENTS
+ Must be a  2021 – 2022 – 2023  SENIOR
or be age 12-14 to apply to be on our tween/teen team!
+ Must be WILLING and EXCITED to promote  Marci and Christy Photography on all social media.
This means being involved and even starting conversations on social media via likes and comments.
+ $199 Non-refundable session fee due upon booking your individual photoshoot with MAC.
+ Ordering prints and products from your Senior or individual underclassman session.
(We will go over all financial and other requirements when you are accepted to the team with a
parent video of information and phone call if you have further questions or to book your session)
Please feel free to call or text 317-696-5481 for more info!

Are you a central Indiana vendor who caters to teens and would like to donate something to go inside our bag… we'd love to include you! Send an email to us at marci@marciandchristy.com