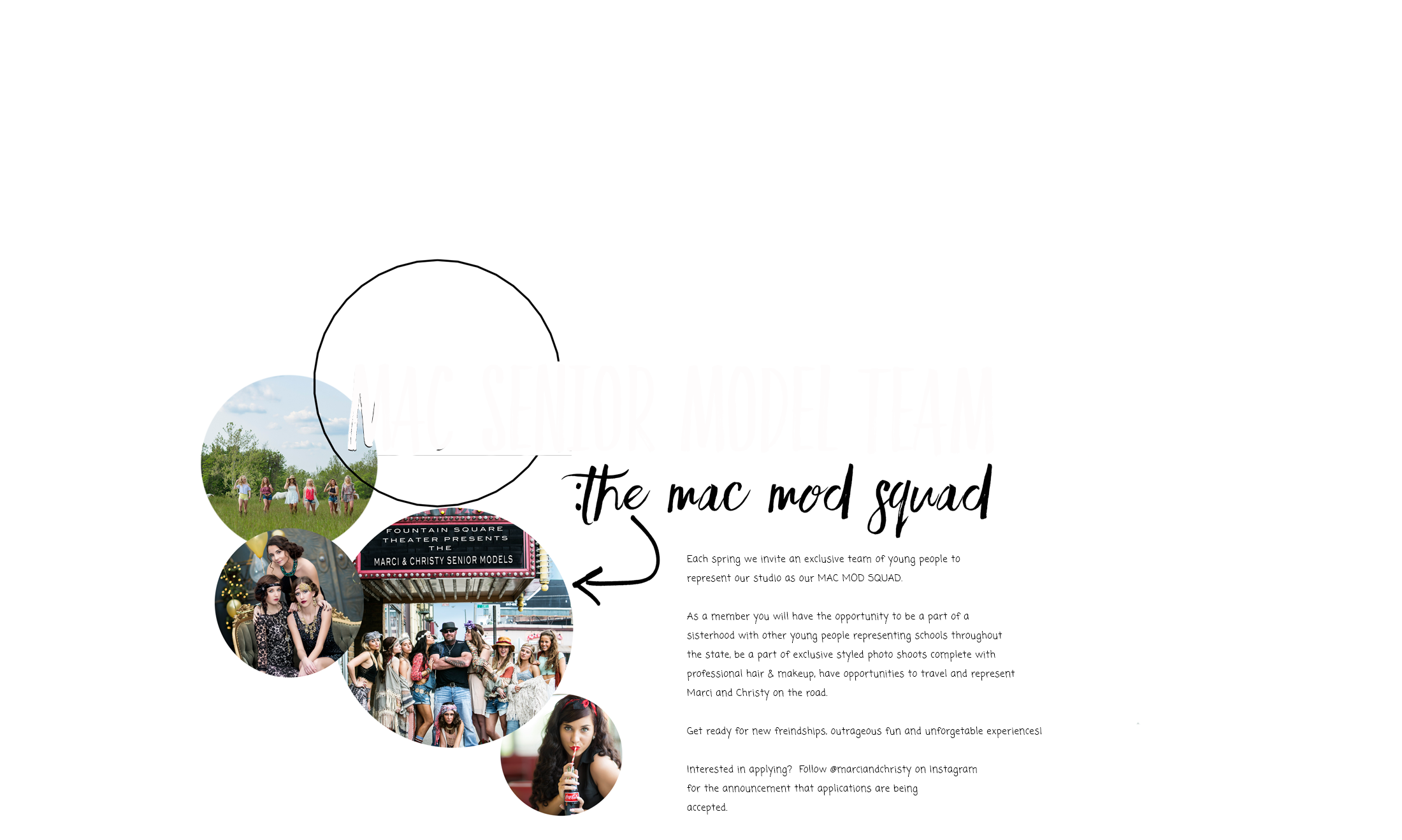 Each spring at our studio we invite an exclusive team of young people from the Indianapolis area to represent our studio, have senior pictures and participate as part of our MODEL SQUAD: Model Team.
SO WHAT IS ALL THE FUSS ABOUT?
As a member, you have the opportunity to be part of something special. Above all else the Marci and Christy Senior Model Squad is a sisterhood, a bit like a mini sorority! Join a team with others who are representing schools throughout the state, be a part of exclusive photo shoots, complete with professional hair and makeup, and have opportunities to travel and represent Marci and Christy on the road.
Get ready for new friendships, outrageous fun and unforgettable experiences!
---
For 2018-19 we will allow each and every applicant who qualifies and agrees to the terms of participation to select one of three different levels of participation.

Every member of our team (sophomore, junior or senior) is required to complete a paid session just like any other client. How can you tell your peers that we are worth every penny if you paid nothing?
---
With a new team, there is always someone to talk to, share with, bond with.  Some of our past (and current) team members have found college roommates and lifelong friends through the MAC program.  How awesome is that?  We have a running Groupme chat to keep everyone in contact and informed of group activities, trips and of course photoshoots!
Interested in applying? Follow @marciandchristy on Instagram and watch for the announcement that applications are being accepted.
Also new for 2018-19 All applicants are put into a drawing to win one of three $100 visa gift cards!! *

 LET'S GO OVER THE DETAILS…

EXCLUSIVE  MAC SENIOR MODEL SQUAD MEMBERS RECEIVE VERY SPECIAL PERKS
---
PERK #1   Discounted session fees that include a unique MAC team t-shirt designed fresh each year.
PERK #2    Personalized Smart Phone App for sharing your images on social media.
PERK #3    Discounted Make-Up artist fees.
PERK #4    Fun trips (like the beach trip) and activities for team members only.
PERK #5    Exclusive, fun, creative and professionally styled photo shoots.
---

AND DON'T FORGET

Only MAC team members can qualify and compete for an amazing GRAND PRIZE SWAG BAG valued at more than $1000.
But, it's not the bag… it's what's inside the bag!
Full of gift cards and gifts from stores like Free People, Urban Outfitters, Altered State, Younique Culture, The Buckle, Rae Lynns, Forever 21, Charlotte Russe, Love Culture, Charming Charlies, Anthropologie,  Journey's,  Delia's, American Eagle Outfitters, Starbucks, Chipotle, Hot Box Pizza, Cheesecake Factory, Hot Topic, and Panera Bread.
*paying qualifying applicants
Trust us when we say . . . YOU WANT TO WIN THIS BAG AND YOU WANT TO BE PART OF THE MAC SENIOR MODEL SQUAD!

Are you a central Indiana vendor who caters to teens and would like to donate something to go inside our bag… we'd love to include you! Send an email to us at marci@marciandchristy.com